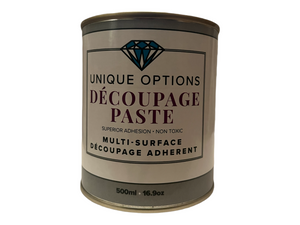 Decoupage Paste
Unique Options Decoupage Paste is a non toxic formula designed for Decoupage work, provides open working time for slipping paper into position, removing paper and re applying if necessary.
Directions inside glass cabinets doors.
Apply with soft brush liberally to surface of glass , lay paper front down, on top of adhesive, smooth with straight edge tool or cloth, pushing out residue paste, wipe excess paste away with damp cloth.
Directions for Furniture and Decor 
Apply paste to surface to be Decoupaged or on the back of paper or cloth, slip into position, use straight edge tool or cloth to smooth paper and push out excess paste, wipe away excess paste as you work, lift paper when required to eliminate any bubbles or wrinkles.
Directions for use with Anaglypta and unpasted wallpapers.
Apply to back of paper liberally, ensuring edges are well covered, allow paper to sit for 5 to 10 minutes, this allows paper to stretch, apply paper to surface to be covered, wipe down with damp cloth pushing excess paste out from sides, paper will contract on drying, leaving a bubble and  wrinkle free finish, allow to dry overnight before painting.
Decoupage Pastes dries crystal clear.
For  optimal slip, base coat  with Unique Options Petticoat on surfaces other than glass.
water based. No Odour 
Dries clear.  Superior adhesion.
Safe for Children to use.
2-3 hours dry time.
Made in Australia