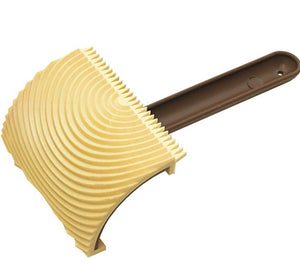 Wood Grainer
Graining is a versatile technique that can be used on Walls, Furniture or any flat surface to create the illusion of real wood grain on the painted surface. 
Graining is is a removal technique (removes areas of freshly applied colour).
This graining tool has three graining surfaces.
Curved Face: Heart Grain Effect.
Notched Edge: Quarter Sawn Effect.
Fine Comb Edge: Vein Graining Effect.